In partnership with Thomas J. Henry, SA YES closed out the month of October with a bang. During an award ceremony on Wednesday, October 27, more than $90,000 in grants were distributed to 12 schools in the San Antonio and surrounding areas. These funds were disbursed as part of the YES Grant program, an SA YES initiative that focuses on supporting STEM* programs in the community.
"Thomas J. Henry Law, PLLC is proud to continue our partnership with SA YES and is especially thrilled to support the YES Grant program in its efforts to expand the availability of STEM curriculum right here in our own backyard," said Susan Harr, Director of Marketing and Public Relations for Thomas J. Henry Law. "These programs will offer tremendous opportunity to the next generation of critical thinkers and innovators right here in San Antonio."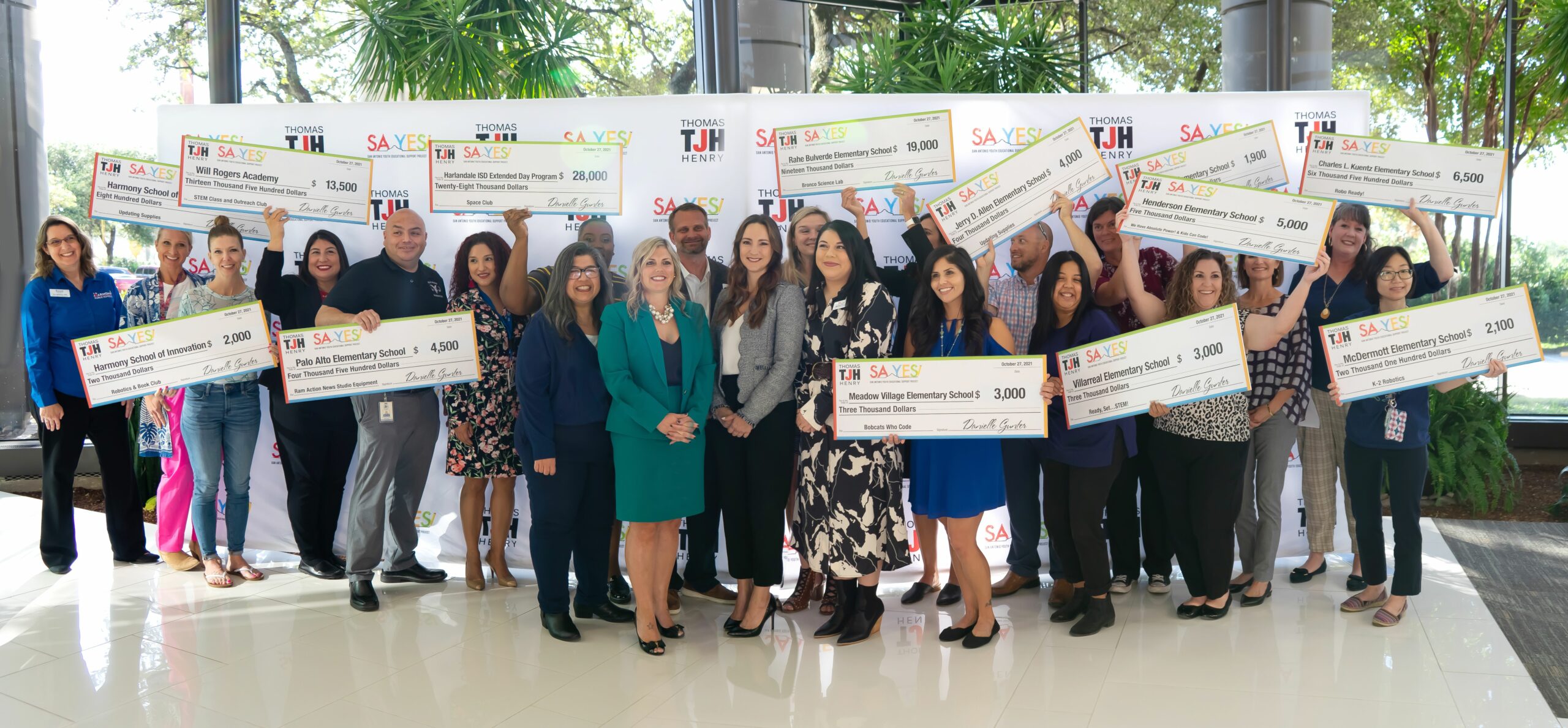 Below is the list of schools that received funds during the Fall grant cycle, and the amount allocated to each based on demonstrated financial need:
Harlandale ISD Extended Day Program, $28,000
Rahe Bulverde Elementary School, $19,000
Harmony School of Innovation San Antonio, $2,800
Villarreal Elementary School, $3,000
Palo Alto Elementary School, $4,500
Henderson Elementary School, $5,000
Meadow Village Elementary School, $3,000
McDermott Elementary School, $2,100
Timberwilde Elementary School, $1,900
Jerry D. Allen Elementary School, $4,000
Charles L. Kuentz Elementary School, $6,500
Will Rogers Academy, $13,500
Read what some of this year's beneficiaries had to say about their YES Grants:
Why is STEM important for your students and/or your school? 
"STEM teaches children more than science and mathematics concepts. The focus of hands-on learning with real-world applications helps develop a variety of skill sets, including creativity. Other skills attained through STEM education include problem-solving, critical thinking, creativity, curiosity, decision making, leadership, entrepreneurship, acceptance of failure and more. Regardless of the future career path considered by our students, these skill sets go a long way to preparing them to be innovative. That's why we should support and provide STEM lessons in our schools." – Ms. Akgul, Robotic Teacher at Harmony School of Innovation San Antonio.
How will the YES Grant impact your students? 
"This grant will impact my students by allowing me to have more hands-on STEM materials which I can use to broaden their knowledge of STEM. It will give my students a bigger window into their future possibilities that they wouldn't have necessarily had before STEM,"  – Mr. Sensiba – STEM Teacher at Jerry D. Allen Elementary. 
Beyond learning about science, technology, engineering, and math, our belief is that implementing STEM into classroom curriculum is critical for a well-rounded education focused on critical thinking, problem solving, and innovation. It is our pleasure to be able to make this a reality for as many students as possible!
YES Grant distributions happen twice a year – during the Fall and Spring. The next grant cycle will be from January 3 to February 28, 2022.  For more information about our YES Grants, please visit https://sayes.org/yes-grants/
*STEM = Science, Technology, Engineering, Math